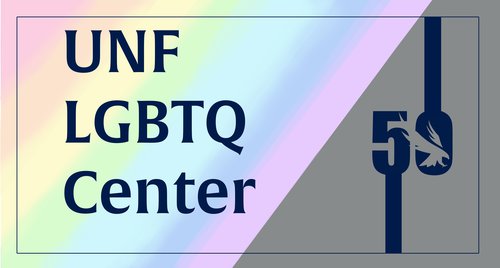 The LGBTQ Center's mission is to provide valuable education and resources for the entire campus community with a commitment to advocacy, equality, respect, and support for lesbian, gay, bisexual, transgender, queer, questioning and allied students, faculty, and staff.
The University of North Florida LGBTQ Center envisions a university where all people are fully included and affirmed, and where justice, equality, and respect prevail.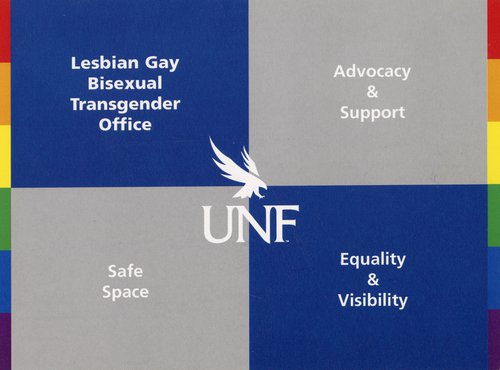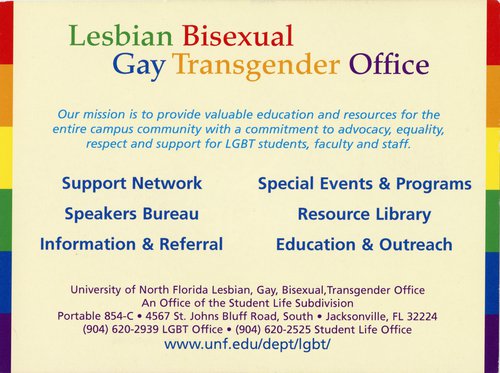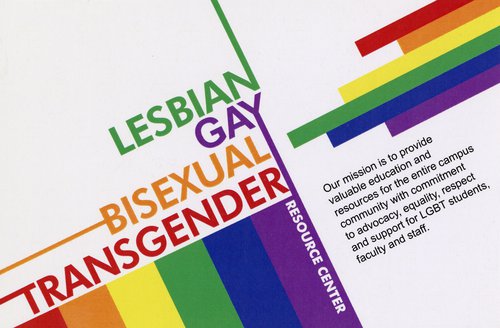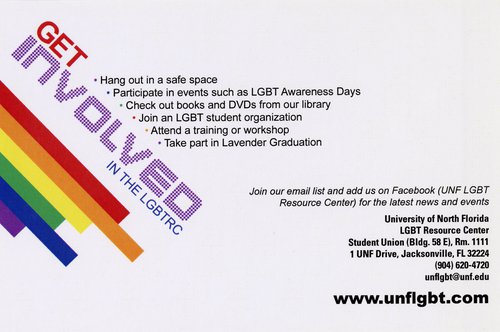 Informational postcards created by the LGBTQ Center presenting services provided by the office; undated.
The LGBTQ Center offers a variety of resources, programs, and services to Students, Faculty, Staff, and the Community. Resources from local to national level are available on the LGBTQ Center's website and Safe Space training is available for faculty and staff on the UNF campus. Programs and events are offered yearly or every semester such as, Lavender Graduation, Sex Week, Coming Out Week, and Drag Queen Brunch. A volunteer program is also available through the LGBTQ Center and works to educate, advocate, and support the campus and greater Jacksonville Community.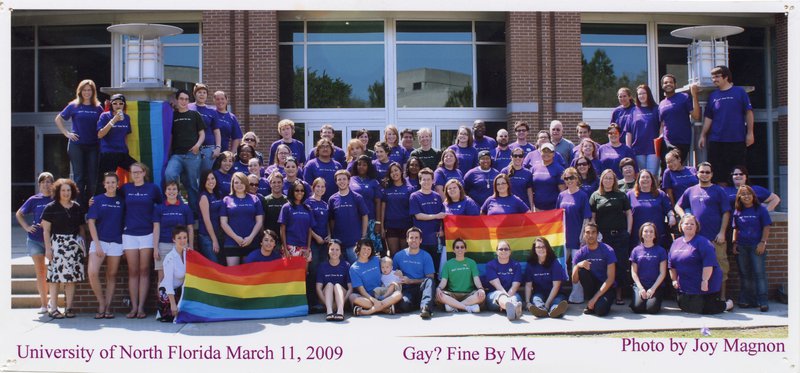 Group photograph from "Gay? Fine By Me" event hosted by the LGBTQ Center, held on January 26, 2010.

Lavender Graduation- Each Spring, the LGBTQ Center hosts a Lavender Graduation to honor lesbian, gay, bisexual, transgender, queer, and ally students to acknowledge their achievements and contributions to UNF and/or the Jacksonville community. Lavender Graduation was started by UNF Alum Dr. Ronni Sanlo in 1995. From a single program with only three graduates, Lavender Graduation has since grown into an annual tradition celebrated by Colleges and Universities across the nation. Participating students receive a lavender cord to be worn with their regalia at the UNF commencement and attend a small ceremony with the option of choosing a UNF faculty member to say a few words.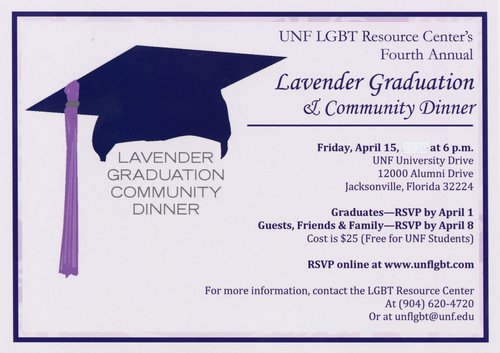 Images feature recent Pride events given by the LGBTQ Center, including a pride parade and Drag Queen Brunch. The Center offers a variety of events throughout the year that further their mission and vision within UNF and the greater Jacksonville community.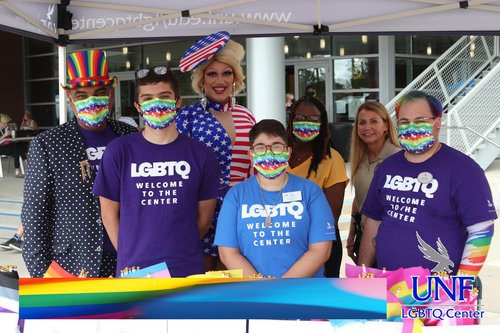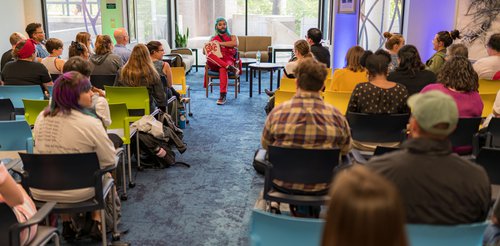 ---
Drag Queen Story Hour event held in the Thomas G. Carpenter Library on October 8, 2019 featuring BeBe Deluxe. The event was part of Coming Out Week 2019 presented by the LGBTQ Center.